Hotels
It's ideally situated 5 minutes from downtown San Jose and 15 minutes from the international airport...
The Best way to describe this most unique property is: "a hotel surrounded by lush tropical gardens"....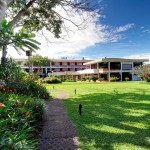 Situated on a shady street just off Paseo Colon, San Jose's main thoroughfare, Hotel Grano de Oro is a true oasis in the heart of the city....